Do you like markets as much as we do? Then you've come to the right place in Valencia. They have an infinite number of markets here, for food as well as flea markets,… Today we'll go over our favorite mercats de Valencia with you! 
One of our favorite mercats de Valencia! Previously markets used to be held here, in the open air. They were those typical stalls with white canopies and colourful merchandise. From 1839 this was complemented by a building that was used for this purpose. But with the turn of the century it soon became clear that people needed more space. Construction started in 1910 and the mercat was finished in 1928. It was totally worth it because it became a real masterpiece. In this area we have lots of amazing apartments. Check out Comedias here.
In 1957 they started working on this Mercat. This Mercat is located in the heart of Russafa, opposite the baroque church of San Valero. The Mercat gives the idea of an open air market because of the way it is built. On the outside the mercat is very colorfully painted. The Ruzafa district has undergone rapid changes and in recent years it has developed into a real hip neighborhood. If you are in Valencia then this is definitely a must-see! Would you like to live here? Take a look at our apartments and start with this one:Buenos Aires.
This is one of the city's most emblematic markets. Located in the heart of the maritime district, this popular self-managed market has been open to the public for 52 years. Throughout the passages you can see colourful products and smell delicious smells. Anyone visiting this market for the first time will be fascinated by the atmosphere. A stroll through this district can not be missed. You can live here, just look at Montants.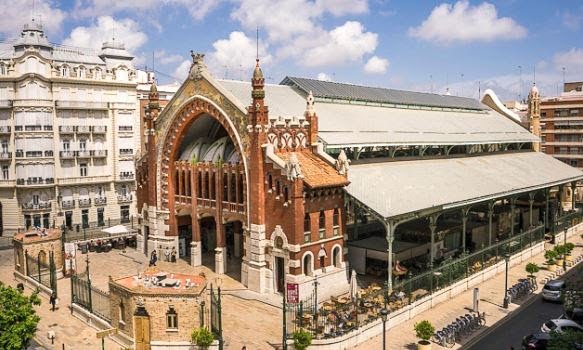 The construction of this beautiful mercat started in 1914. The combination of imposing arches and unique materials give it a unique look. The arches consist mainly of stone and mosaic. This is not a market like the others. It is located in the middle of the city of Valencia and you can go here for a delicious drink and snack. It is a great neighborhood to live as well. In fact, we have lots of apartments here like Capuz Penthouse. 
Concerning the flea markets, keep a close eye on the posters on the street, there are often nice addresses on them. Usually these can be found in the trendy neighborhood Ruzafa. 
Globexs offers a wide range of flexible tempory expat rentals in all price ranges.